This is a complete list of where to find Illinois senior services, aging information, area agencies on aging, and related links.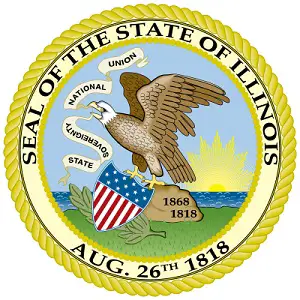 Illinois has a total population of 12.6 million, of which 16.1% is over the age of 65. By 2030, it's projected that the share of the population over the age of 60 will rise to 25%.
The state has 25.7 geriatric providers for every 100,000 people over 65 and nearly 95% of Illinois senior citizens have a dedicated healthcare provider. There are also 142 home health care workers for every 1000 Illinoisans with a disability. However, just over 5% of seniors avoid seeking medical care due to the cost and only about one-third of nursing home beds in the state are rated at four or five stars.
8.6% of Illinois's senior citizens live in poverty, and 13.7% experience food insecurity. However, 100% of those over 60 who are eligible for SNAP do take advantage of the program. Illinois spends $34 on community support expenditures for every citizen over the age of 60.
32.5% of Illinois's seniors experience obesity and 40.3% of the state's senior Medicare beneficiaries live with multiple chronic conditions.
Illinois has a total Medicare enrollment of 2.26 million, with people over 65 making up 85% of Medicare enrollees in the state.
There are 13 Area Agencies on Aging throughout the state of Illinois and the state government has a Department on Aging.
Illinois has many senior services available to help the elderly and caregivers. You just need to know where to look! Below, we've listed links to resources such as the Area Agencies on Aging which can provide services or connect you with the right resources for your needs.
We try to keep these state resource pages as up to date as possible. If you find a broken link, please contact us to let us know. This helps us help others. Thank you!
Area Agencies on Aging
State Government
State Agencies and Non-Profits
Legal Services
Should other Illinois senior services be listed here? Contact Elder Guru