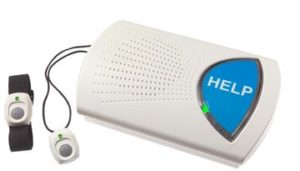 Falls are a major concern for older adults and for good reason. According to the CDC, one out of three older adults will have a fall. Furthermore, one fall doubles the chance of falling again in the future. What can happen after a fall?
Falls can cause broken bones, like wrist, arm, ankle, and hip fractures.
Falls can cause head injuries. These can be very serious, especially if the person is taking certain medicines (like blood thinners). An older person who falls and hits their head should see their doctor right away to make sure they don't have a brain injury.
Many people who fall, even if they're not injured, become afraid of falling. This fear may cause a person to cut down on their everyday activities. When a person is less active, they become weaker and this increases their chances of falling.
For an older adult who lives alone, the fear of falling can be even greater due to the difficulty of righting oneself, the likelihood of a serious injury from the impact of the fall, and uncertainty of getting help in a timely manner. Fortunately, with advances in technology, monitoring for falls and medical emergencies is possible from the comfort of one's home with a personal emergency response system.
The market is filled with advertisements for systems with a range of prices and options. Before committing to any one product, elders and caregivers should keep these considerations in mind and ask the following questions to make the most informed decision.
What is it?
According to the Federal Trade Commission:
Personal Emergency Response Systems (PERS), also known as Medical Emergency Response Systems, let you call for help in an emergency by pushing a button. A PERS has three components: a small radio transmitter, a console connected to your telephone, and an emergency response center that monitors calls.

Transmitters are light-weight, battery-powered devices. You can wear one around your neck, on a wrist band, on a belt, or in your pocket. When you need help, you press the transmitter's help button, which sends a signal to the console. The console automatically dials one or more emergency telephone numbers. Most PERS are programmed to telephone an emergency response center. The center will try to find out the nature of your emergency. They also may review your medical history and check who should be notified.
Who is it for?
Older adults who fear falling and being unable to get up without assistance, who understand how to use the system and it's function, who agree to wear the help button, and who remember to activate the help button in the case of a fall or emergency.
What is the cost?
It is always the big question when deciding whether to add an additional expense to a household. The overall costs involved with a personal response system can vary greatly depending on several things.
Find out if the unit can be leased or purchased, how much are equipment charges, shipping and handling fees, and if there is a fee for installation.
Ask for specials and if any of the fees can be waived. Don't hesitate to ask for a breakdown of the upfront costs as well as the ongoing monthly fees.
Contact your local Area Agency on Aging for programs that might be able to help with the costs of a system. Call 1-800-677-1116 or go to our Aging Resources by State page to find your closest Area Agency on Aging.
Duration of need?
Some providers require a contract for a minimum number of months, while others allow a pay as you go, cancel when you need type of contract. Know ahead of time which option best suits the person for whom the unit is intended. For example, if a person has just discharged from a rehab facility, they may only feel that they need the unit for a short time while another person may feel that it is necessary forever and ever, amen.
What is the range of the system?
This depends on the lifestyle of the older adult. There are different systems with longer and shorter range capabilities for people who plan to spend most of their time inside of their home vs. someone who works out in the yard and is more mobile.
Additional questions:
Who monitors the system? What is the response time?
Is the device water proof or water resistant?
How are repairs and maintenance concerns handled?
With the right system in place, an older adult can have peace of mind that in the event of a fall or emergency, they can get the help they need with just the touch of a button. Check with your local AAA for a listing of recommended providers in the area.
Thanks for reading and come back for more posts on aging issues. Leave a note in the comments section with questions, concerns, or just a friendly message.